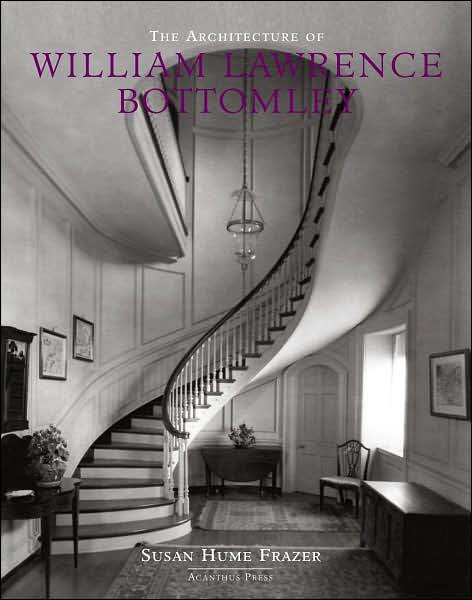 There were only a handful of memorable American architects practicing traditional residential architecture during the 1920's and 1930's. William Lawrence
Bottomley
is most assuredly one of the finest talents to practice his craft in that era. Sharing the stage with fellow architects, Mott B. Schmidt, John Calvin Stevens, William Adams Delano, among others, brings
Bottomley
's breadth of talent into focus.
Susan Hume Frazer's book
The Architecture of William Lawrence

Bottomley
is to be commended for her thoughtful and extensive research into the life and work of William Lawrence
Bottomley
. Often overlooked, and under appreciated, are the traditionalists of American architecture such as
Bottomley
. His skillful detailing and ability to create beautiful buildings is wonderfully illustrated in Frazer's sumptuous book.
The author provides an in-depth view of how the architect's personal and professional life intertwined. Although blessed with a sliver spoon at birth
Bottomley
did not squander his opportunities. Well educated, attending Columbia University and
Ecole
des
Beaux
-Arts, traveling throughout Europe to study architecture, and using his social connections, enabled him to build a successful career as an architect with socially prominent clients.
Within the realm of residential design
Bottomley
's work provides a sophisticated range in both scale and style. From the smallest of projects such as the Davis family mausoleum (p. 98), to the large country home called
Redesdale
(p.138), his design styles varied from Georgian, Colonial, Mediterranean, to Art Deco. All beautifully and thoughtfully executed.
Sadly many of the photos are faded, and don't clearly show off
Bottomley's
beautiful architectural details, and it is understandable considering the age of the photos and the material the author had to work with. Frazer wisely included floor plans for those seriously interested in studying
Bottomley
's designs will appreciate.
A stand-out project which illustrates
Bottomley
's exceptional design skills is represented in the "One-Man House" in New York City designed for Benjamin Wood in 1925 (p. 132). A narrow thirteen foot wide row house was remodeled as a collection of spectacularly grand spaces expanding the space vertically with a two story living room. Frazer describes
Bottomley
's clever use of false perspective in the garden design to fool the viewer. "Columns and capitals were gradually reduced in size toward the terminus, a diminutive fountain." (p.134)
Later in life
Bottomley
designed several apartment buildings one of which was called River House in New York City. In 1930 he moved his family into their own custom designed apartment at River House. Frazer includes the architect's home in her book weaving in background information about their daughter's friendship with the bride-to-be of architect I.M. Pei and their subsequent wedding ceremony at the
Bottomley
apartment. An architect's home is often a place to take design risks which is illustrated in
Bottomley
's Art-Deco eclectic design.
Bottomley
indulged himself in some whimsical detail that might not otherwise be done for a client. An example being "the stair rail with stylized horse figures cast in brass and alternating with wavy and straight uprights." (p. 245).
The current generation of architects can learn much from
Bottomley
's skill with traditional detailing and proportions, which is often lacking among the profession.
The Architecture of William Lawrence
Bottomley
. Susan Hume Frazer. New York: Acanthus Press, 2007. 350 pp. $85.00